On Vancouver Island, it's best not to blink. The moment you do, your yard turns into a jungle and you become instantly overwhelmed. Ever catch yourself standing in your backyard bewildered and in a bathrobe? Scratching your head, you wander your property wondering what you're going to do. Why God Why, you scream out.
While we're not God, we've been helping the bewildered for a decade. Shoot us a message. You'll be glad you did. Your jungle will become a sanctuary in no time. But don't take our word for it.
"I like the way they always notify me the time and date of their arrival, and their prompt replies to emails. Our garden is difficult being on a slope but Dorothea carefully weeded the worst spots. The company will also come more or less hours per month and that jibes with nature who has fast and slow months too. Knowledgeable and thorough, hardworking and pleasant staff, prompt to arrive. Devised a plan for a sustainable landscape on a difficult site. Communicative as well. 10/10! Marion,Victoria
They are doing a great job and to date the staff are very accommodating in the process of caring for our gardens and shrubbery." Sherwood House, Duncan.
"It was so nice to come home from work and see how clean and tidy everything looked after a good pruning." Diane, Dunan.
"Many thanks for the outstanding work you did to bring everything together and plant our new garden. It was a big job on a ten acre property and, at every step, you were gold standard – listening closely to the look and feel we wanted to achieve, coming up with just the right solutions, resourcefully searching out hard-to-find plants, and doing a first rate job on installation. All that from wonderfully positive people who are passionate about what you do and an absolute pleasure to work with. Thank you again and we look forward to future projects together." Peter & Mia Lanyon, Cedar.
————————-
We enjoy gardening and it shows! We'll take your overgrown, weedy gardens and make them into a picture! Whether you need some help to get things on track or you require more frequent attention, our experienced staff and their green thumbs will set your mind at ease. Check out a Spring Cleanup, Lush style! Yes, those are the same spaces. 🙂
Book your 2020 Garden Maintenance today!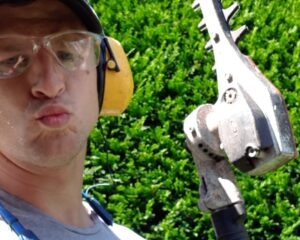 We don't compromise on our hedge trimming. We bring a practiced eye and standard of perfection to every job!
---