Pruning is an art best left to professionals with years of experience.  Our experienced staff will take off the right amount at just the right time to keep your hedges and trees looking their best.  We do this so you don't have to….besides…we kinda like it 🙂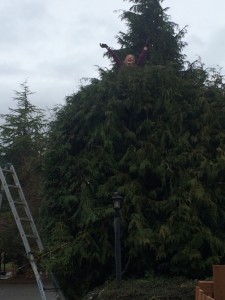 Hedges
"The whole process from start to finish was efficient, and hassle free. The hedge looks great. Thank you. Janice, Duncan.  10/10!"
"Quick response time to initial request. Excellent follow through from initial conversation to setting up the start of the job. Professional, high quality service. Left the work site cleaner than when they started. They delivered exactly what they said they would. Pleasant and polite. 10/10" Sandy, Maple Bay.
Spring and Fall are great times to trim your hedge.  Be careful with the popular "buzz" look as it can bring on unwanted browning or even disease. A hedge should still look full and Lush after a trim.  See below.
Before and…..After.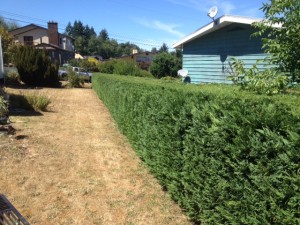 Shrubs
Deadheading, trimming, pruning, weeding..these are all weekly habits of any Lush garden.  It doesn't take long for a garden to grow out of control so its best to have a weekly/bi-weekly plan.  If your garden has grown out of control, no need to worry, we can have it back to its Lush self!
---