There's A LOT of change and uncertainty in our world; but one thing never changes...
For the past 13 years, we've used our superior soils, tested techniques, buckets of sweat and ZERO chemicals to seed, sod and maintain the lushest lawns on Vancouver Island.
The key to a Lush Eco Lawn is what you don't see. By treating the root cause, lush not only appears, it remains. While some companies prescribe six seasonal fertilizers, if your soil is healthy, you won't need them.
Conventional lawn care says, "spray the symptoms."
We'd rather solve your problem.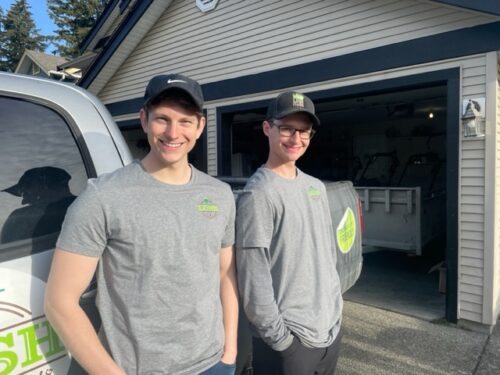 What our Clients Say
"Amazing crew that goes above and beyond each and every visit. I never have to worry about scheduling, the yard just looks fantastic all of the time."
Trish
Chemainus
"John is an expert in the field. Efficient and proficient. My lawn could not be greener and more lovely."
Christine
Duncan
"Lush has been very helpful, knowledgeable, friendly and especially easy to communicate with. Their teamwork is evident and they work efficiently."
Bob
Victoria
"Very quick to schedule, friendly and they did an incredible job! 10/10."
Jasmine
Nanaimo
"I just LOVE the way they edge my borders, they are super friendly and do a wonderful job mowing!!!"
Kathi
Ladysmith
"Lush give dependable, thorough gardening service. The gardeners are pleasant and conscientious and they seem to enjoy working on a difficult site. I would certainly recommend them."
Marion
Victoria
"My lawn is grass, not dirt and weeds. Thanks guys! 10/10."
Marty
Nanaimo
Pesticide free moss and weed removal

Power raking/de-thatching

Lush natural lawn fertilizing
In business since 2009, Lush was the Cowichan Valley's first pesticide-free lawn care company. We have been recognized with several green awards including the Duncan Chamber of Commerce's Black Tie award for Green Business of the Year, Vancouver Island's Green Business of the Year and was named a Top 10 Green Business in BC.
John Close, the owner, has been a finalist for Vancouver Island's Top 20 Under 40 three times and in 2016, he was named a Top 20 Under 40 for Vancouver Island.