As beautiful as life is on Vancouver Island, it can also be quite dark.
While we run the Island's largest lighting program at Christmastime, we recently wondered, "Why don't we do this all the time?"
Okay, so we can't exactly bring you Christmas in July (although, we did for Hallmark), but we can bring light to your yard all year round.
Here are four reasons to get lit!! Well, you know what we mean.
We have partnered with a local supplier to bring premium lighting to your landscape and home.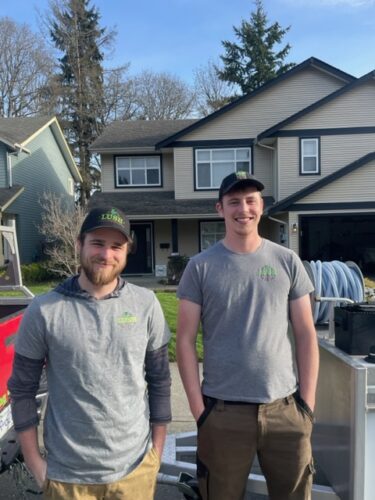 Our Pro Grade LED product has been built to handle our wet, west coast winter and the challenges of every season throughout the year. It also comes with an unprecedented double digit warranty.
As impressive as our product is, its job is to disappear and highlight what matters most: the place you call home.
What our Clients Say
"Zach developed an amazing design that met my expectations and beyond. He is very knowledgeable about the product and has a keen eye. I am so pleased with the look and feel of the property. I do feel very safe and secure when I am out with my puppy late at night."
Rosemary
Nanaimo
"John and crew are very professional and are all great guys. They are efficient and go above and beyond. Their product is like no other and after seeing our house Christmas lights last year our neighbour had them installed this year. We added to our lights this year and will do so each year until the house is fully lit."
Gloria
Nanaimo
"Lush is very responsive to questions, professional and and the work is top notch… I could not be happier! Not only that but the lights look great, thank you John and Justin."
Donna
Ladysmith
"Good product and efficient reliable service."
Alan
Victoria
"Our Christmas lights look amazing! John and his crew were very friendly – a pleasure to do business with!
Paul
Victoria
"Dedication to delivering quality service. Excellent service and product."
Vince
Nanaimo
"I love the ease of communicating with the team at Lush Lighting. They are so reliable and make the holiday season brighter."
Laura
Nanaimo
"No problems, you are pros! Thank you for the lights."
Willow Street Cafe
Chemainus
Fixtures built with durable brass backed by a 10-year warranty.

Stylish, natural finishes to fit any landscape design.

Smart options to control your lights from your phone anywhere at any time.

Brings new depth and perspective to your landscape at all times of day.

Rust-resistant brushed brass finish.
In business since 2009, Lush was the Cowichan Valley's first pesticide-free lawn care company. We have been recognized with several green awards including the Duncan Chamber of Commerce's Black Tie award for Green Business of the Year, Vancouver Island's Green Business of the Year and was named a Top 10 Green Business in BC.
John Close, the owner, has been a finalist for Vancouver Island's Top 20 Under 40 three times and in 2016, he was named a Top 20 Under 40 for Vancouver Island.