There are two certainties in life—death, and you hate putting up Christmas lights.
While we can't help you hang your crappy lights, we have something even better.
For the past 13 years, we've lit up hundreds of homes (and faces) for the holidays. Homes from Nanoose Bay to Oak Bay and every town in between. This past year our program grew by a record 50%. It seems people need light, now, more than ever.
How does it work?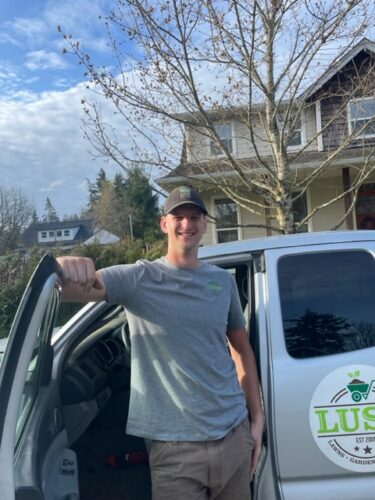 You pick and pay and we do all the rest!
How do people feel about the service?
Glad you asked.
We pass with flying colours.
What our Clients Say
"Zach developed an amazing design that met my expectations and beyond. He is very knowledgeable about the product and has a keen eye. I am so pleased with the look and feel of the property. I do feel very safe and secure when I am out with my puppy late at night."
Rosemary
Nanaimo
"John and crew are very professional and are all great guys. They are efficient and go above and beyond. Their product is like no other and after seeing our house Christmas lights last year our neighbour had them installed this year. We added to our lights this year and will do so each year until the house is fully lit."
Gloria
Nanaimo
"Lush is very responsive to questions, professional and and the work is top notch… I could not be happier! Not only that but the lights look great, thank you John and Justin."
Donna
Ladysmith
"Good product and efficient reliable service."
Alan
Victoria
"Our Christmas lights look amazing! John and his crew were very friendly – a pleasure to do business with!
Paul
Victoria
"Dedication to delivering quality service. Excellent service and product."
Vince
Nanaimo
"I love the ease of communicating with the team at Lush Lighting. They are so reliable and make the holiday season brighter."
Laura
Nanaimo
"No problems, you are pros! Thank you for the lights."
Willow Street Cafe
Chemainus
Use 92% less energy than incandescents, give off little or no heat, and allow for longer runs.

Save in both energy, maintenance, and replacement costs. LEDs last up to 15 times longer than incandescent lights.

Durable lens resists breakage and fading.

Perfect for roof lines because cord used is not twisted, enabling bulbs to be pointed in consistent directions with the help of clips. This gives a much cleaner, professional look.

The wire used with these bulbs can also be cut to size to fit structures perfectly.

UV stabilizers in lens cap.

Copper base with nickel coating for improved resistance to corrosion.

Wire and roof-line clips not included.

Bases are secured to the bulb with proprietary rubber o-rings, combined with epoxy glue to seal out moisture.
In business since 2009, Lush was the Cowichan Valley's first pesticide-free lawn care company. We have been recognized with several green awards including the Duncan Chamber of Commerce's Black Tie award for Green Business of the Year, Vancouver Island's Green Business of the Year and was named a Top 10 Green Business in BC.
John Close, the owner, has been a finalist for Vancouver Island's Top 20 Under 40 three times and in 2016, he was named a Top 20 Under 40 for Vancouver Island.