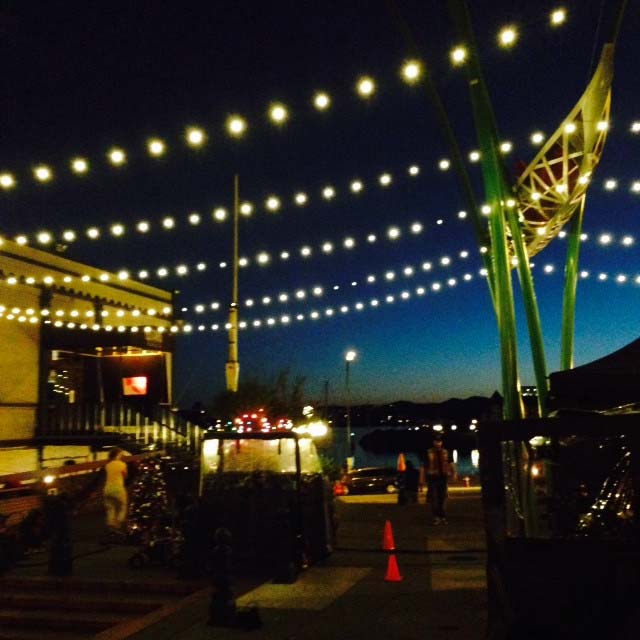 How I Came To See The Light
2020 has been rough. And super dark! Last month, as the smoke engulfed us and blocked out the sun, it felt even darker. There was a heaviness in the air and we were all feeling the affects. So, I took to social media on one of the darkest days of the year and wrote these words.
We're living in dark times.
I used to miss the blue sky too.
And clouds and smoke and Trump don't mean shit. Like Breaking News, they blow in and blow out and no matter how dark they make things feel, the blue sky remains – above us and within us.
We can curse the clouds and choke on the smoke or we can soar above them to clearer days and bluer skies.
Come fly with me.
—————————————
11 years ago, I was feeling a darkness. Lush had performed well in its first year but the cold, hard winter had come minus the cash. The first month I attempted to shovel people's walks but quickly discovered I needed snow for that to work. By January, I was depressed. Unmotivated. I cursed the clouds and cried while watching Rudy in the morning. I was a fiery entrepreneur yet here I was smouldering on the couch. Eventually, the clouds lifted and blue skies emerged and before I knew it, I was back out on the lawns. Busier than ever!
As summer came to an end, I was reminded of my couch smouldering days. Winter was coming and I knew we wouldn't survive another one like last year. I was going to have to figure it out.
One of my obstacles is I've never been naturally good with my hands. Which is why when it came to adding winter services, I couldn't just offer Fence building or Retaining Walls or even Fruit Tree Pruning to my list of possible Lush services. I didn't have the knowledge, expertise or even a ladder….. Well, it turns out, ladders aren't that expensive. And I've always loved Christmas. So, I went with what I love.
I knew if I was going to offer Christmas light installation, it would have to be on brand and on par with our other premium Lush services. This meant I would have to find a supplier (the big box stores wouldn't cut it) and although there was a huge demand for it (and still is) I wouldn't be able to offer to hang customer's existing lights (they all bought from the big box stores). After much research, I found a supplier of premium LED customizable Christmas lights and they even came with a manual on how to install them. Armed with real knowledge and a shiny red ladder I felt excited to get going until it occurred to me that I would have to climb that ladder. And houses tend to be high.
Undaunted, I hired someone who was less afraid of heights than I was and together we took our time and decorated 1 house that first winter. We made some money and laughed through our silly mistakes. But we didn't fall and the lights didn't dim and I gotta say, the house looked amazing and we gave a family a wonderful Christmas that year. (yup, that's the house pictured on our Holiday Lighting page) The joy we brought to their faces made it all worthwhile.
The second year we decorated 6 houses. Then 18. And 32. Last year we maxed out at 60 homes and I'm happy to report that not only have I lost my fear of heights. I now know that the Philips has a star end and the Robertson screw driver has a square end. Who cares if I just googled that right now.
Although our Lush Holiday service is incredibly busy, I've never forgotten where I started. Or why I do it. And still, every year when I pull up to that first house in Mill Bay, I pause and remember. And thank them for believing in my idea and saying yes to our lights that first year.. Their house sits on a hill and 10 years later their lights still shine just as bright. Illuminating the darkness all around.
Life can often appear dark but I've learned the light always remains, above us and most importantly, within us. We alone possess the switch.