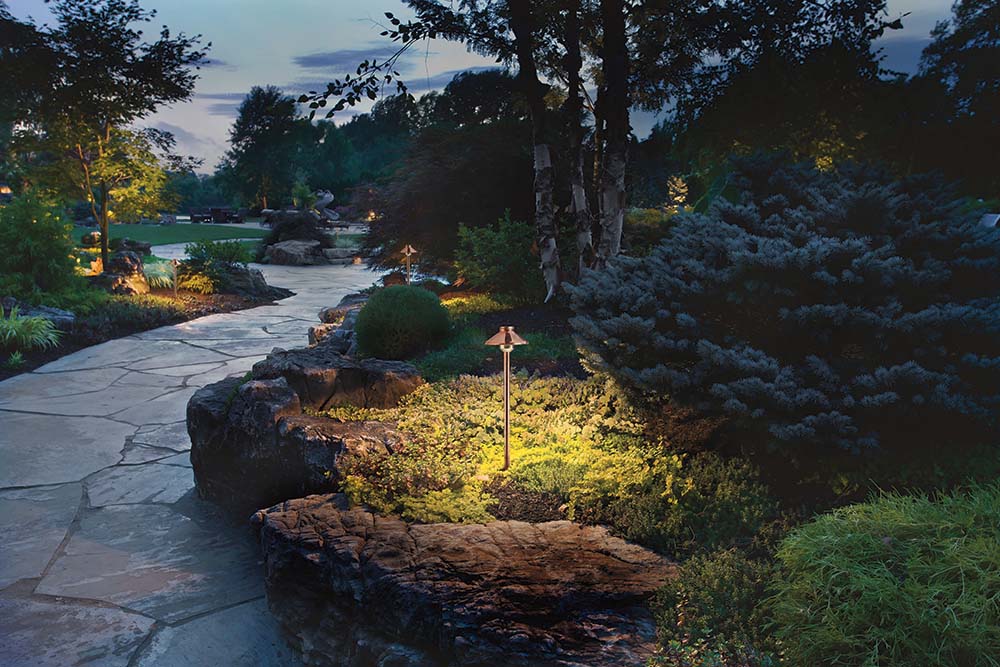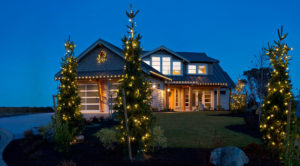 The winter of 2009 was the darkest in Lush history. We had opened our doors months earlier boasting eco friendly lawn care services but quickly experienced the limit to our growth. After residing in the prairies for 32 years, my family and I had decided to head west in search of gold. We were 100 years too late. It didn't take long for the reality of a Vancouver Island winter to set in. Lack of light, too much rain and not enough revenues. The darkness was acute.
"You spent way too much time on the couch that first winter.  Remember how you cried while watching Rudy?" – Angie Close
Thanks hon, but I got this.
We knew we wouldn't survive another winter like that so the following year I decided to get Lush into the Christmas light business.
"I never thought it would work." -Angie Close
In Angie's defence, I had zero experience with ladders or exterior illumination. Plus, I had a re-occurring fear of falling head first off a roof. Undeterred, I bought a book on how to install high-end holiday lighting and the following winter we found a client who believed in us and we decorated their modern home (pictured above). Not bad for our first one eh 🙂
The next season we decorated 6 homes, then 15, 30, 40 and 50 homes. One summer, we turned Bastion Square and Fernwood into a festive wonderland for a Hallmark movie (6 years later, our lights still hang above the Fernwood Inn and my Mom still forces her friends to watch the movie). Last year we decorated over 80 homes and this year we expect to finally hit triple digits and transform over 100 homes from Oak Bay to Nanoose Bay.  I recently celebrated 10 years of holiday lighting by re-watching Rudy.
"And he cried again!!!" -Angie Close
After a decade of experience in outdoor lighting, we have come to appreciate the power of light. The joy on people's faces, the transformation of their homes…light is powerful! And it deserves to be seen year round!
Earlier this year, we set out to create a year round lighting experience and we are happy to announce, after much research and training, we now offer premium landscape lighting.  The average homeowner will invest tens of thousands of dollars in their yard but without light, much of it will remain hidden half the time. We believe a property with lush lawns, colourful foliage, waterfalls, stone features and a beautiful home deserves to be highlighted. Celebrated! In fact, we believe every home on our beautiful Island deserves to be celebrated. If you're like me and you're unlikely to have a waterfall or stone feature installed anytime soon, landscape lighting is still an important investment to consider. Here's a few reasons why:
Quality
Unfortunately, when most people think of landscape lighting, they picture unreliable and cheaply made solar lights that every big box store (Costco) blows out this time of year. You can get 5 for $50 but they kinda work and can be broken by a small child. Your property deserves better.
Security
If you were a criminal, would you try and burgle a home cloaked in darkness or one lit up from every angle? Light eliminates darkness of all kinds and brings peace of mind.
Safety
The older we get, the more safety can be a concern. Well positioned light decreases the chances that you'll slip down the stairs or trip when taking the garbage out to the curb. It also allows you to navigate your yard day and night.
Ambiance
Think about one of your favourite dinners out. Or a romantic evening spent with a loved one. Whether you realized it or not, the lighting played a starring role. Well balanced light enhances the mood and creates a memory that can last a lifetime. Now you can experience the magic of light while at home.
Value
We already know the tremendous value premium landscaping can bring to a property. Premium landscape lighting is no different. Not only does it highlight what's already there, it highlights the more that usually gets missed.
We have partnered with a local supplier to bring premium lighting to your landscape and home so you never have to watch Rudy again.
Tired of living in the dark? Email or text (2507323013) us today to see how we can bring you the magic of light.
Our Pro Grade LED product has been built to handle our wet, west-coast winter and the challenges of every season throughout the year. It also comes with an unprecedented double digit warranty. As impressive as our product is, its job is to disappear and highlight what matters most. The place you call home.