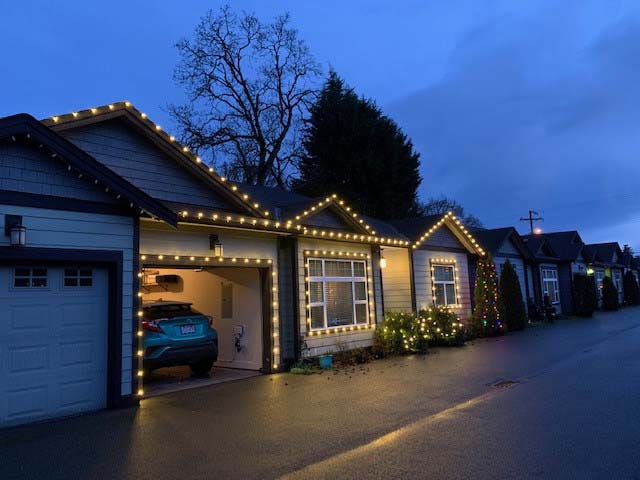 Professional Holiday Lighting
If you haven't seen National Lampoon's Christmas Vacation, you're missing out. I've probably watched it every Christmas for 20 years and have continued the tradition with my own kids. There are many classic scenes but few exceed the fun of watching Clark Griswald (Chevy Chase) attempt to install 20,000 Christmas lights on his house. He succeeds (spoiler), kinda. As inept as Clark is as an installer, his passion for Christmas lighting equals ours which is why I started this popular program in the first place.
When I started our Holiday Lighting Program in 2010 it was founded on these core values…
Passion for Christmas must always guide the process
The bulbs must only be the highest quality grade LED.
The service must encompass a program including design, set up, installation, takedown and storage.
The work must be completed by passionate, fully insured professionals with an eye for detail.
Customer satisfaction is paramount.
It is our adherence to these values that has been the secret to our program's exponential growth as we now install Christmas lights for clients in Qualicum, Nanaimo, Cedar, Ladysmith, Chemainus, Crofton, Duncan, Maple Bay, Mill Bay, Shawnigan Lake, Victoria and Oak Bay. Every customer receives a guarantee that should even 1 bulb fail to light we will make it right. We're still waiting for that bulb to fail:) Most recently our lights caught the attention of Hollywood and have been featured in this film! Talk about a cool experience! We have also partnered with the Downtown Victoria Business Association using our lights to beautify Victoria's alleyways.
If you love Christmas as much as we do, let us enlighten you further… *nice one John :). We have multiple colour options for your home, business, shrubs and trees. Bottom line, you own everything including a full warranty for 3 years as long as you stick with the program.
We highly recommend connecting with us soon…we're booking up quickly for 2017!
Talk to you soon!