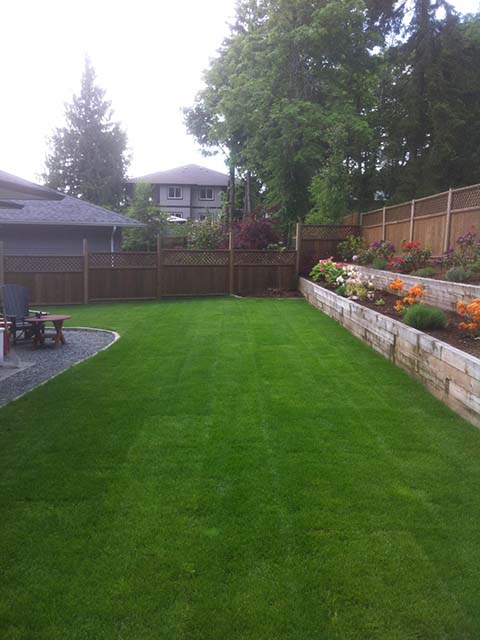 2021: A Perfect Vision for your Yard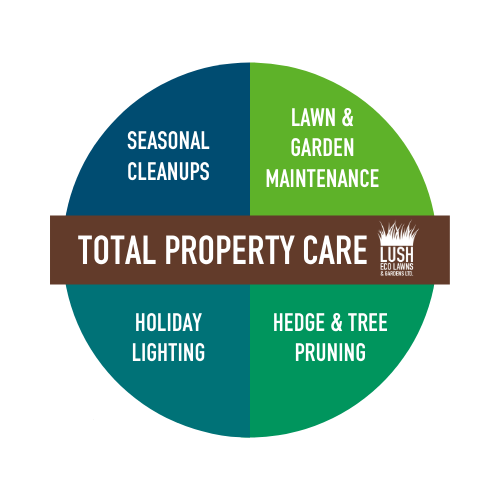 If there's one thing we've learned after a decade in the landscaping business – it's this. You prefer us to do everything! 🙂 In the beginning, we weren't able to deliver everything because it was just John with a lawn mower and an adorable home-made business card. Now that we have 4 trucks and trailers, several experienced employees and three locations serving Vancouver Island, we can finally deliver on all things plants. In fact, if it grows, we'd really love to take care of it for you!
Although we have made our reputation creating Lush Eco Lawns, we are no longer just a lawn care company. We offer TOTAL PROPERTY MAINTENANCE and CARE including the favourite 5:
Seasonal Cleanups: You just bought a house and the yard is a mess. Email us. You need to sell your house and the yard is a mess. Email us. You meant to get to it but you ran out of time. Email us. You tried to do it yourself but ran out of will. Email us. Your partner tried to do it and you ran out of patience. Email us. You need it done right the first time. Email us! We'll make you look good, we promise! Plus, you'll love our happy hard working employees! So.. email us! 🙂
Lawn care and maintenance: Lawn mowing, lawn renovations, new lawn installation, year round lush lawn maintenance and care including spring startups and fall cleanups! We are 100% chemical free and the chosen company by children and pets everywhere.
Garden care and maintenance: This includes new plantings, transplanting, weeding, seasonal pruning, mulching, property beautification and year round care including spring and fall cleanups. Most importantly, we offer drought tolerant, low maintenance solutions that your deer will hate and your wallet will love.
Fruit tree care and maintenance: Apple, pear, plum, cherry, peach you name it. If it's under 20 feet, we'll properly prune it! We'd also love to plant your new trees!
Hedge care and maintenance: Cedar, Leylandii, Laurel, Hemlock, Yew name it. 🙂 If it's under 20 feet, our hedge trimming wizard Justin will prune it to perfection. We'd also love to plant your new hedge!
Although we don't offer hardscaping or fence solutions (remember, if it grows, we take care of it 😉 we work with many excellent companies that do and would love to refer them along!
There is one very notable exception to our "plants only" approach. In the winter, we run one of the Island's biggest and most unique Holiday Lighting Programs! This season we decorated over 60 homes! We'd love to brighten your holidays this coming season!
Looking for a Company that does it all? Email or text us today to get on our Spring 2020 schedule or schedule your free estimate.
Bottom Line: We are the preferred choice for total property maintenance and care! But don't just take our word for it….
Recent 10/10 Reviews (there's hundreds more where these came from ;))
"Knowledgable, efficient, friendly, conscience,…….the complete package. AND as a result of their work -we love our garden again." Ron and Irene, Chemainus
"Hard not to give a perfect rating for such a great service. Pleasure to deal with, no hassles, no B.S.. Just consistent good steady maintenance." The Window Viper, Duncan.
"Great staff; hardworking, pleasant and patient with older folks. Always leave the yard looking so much better!" Joanne, Ladysmith
"Excellent, quick & tidy work. Respectful employees." Derek, Cedar
"Attentive to needs and expectations. Property, although small, is always picture perfect." Rosemarie, Nanaimo
"Friendly and very hard working. Quality and tidy work. Environmentally responsible. We have dogs out playing on the lawn, so pet friendly products are so important. John and staff are cheerful and easy to reach via Facebook Messenger, email, etc. Looking forward to years to come." Janna, Cowichan Bay
"Very professional and took me in on short notice. Their estimate and final costs were bang on and my house looks amazing. Thanks again!!" Jeremy, Sooke
[testimonial_rotator id="1412″]