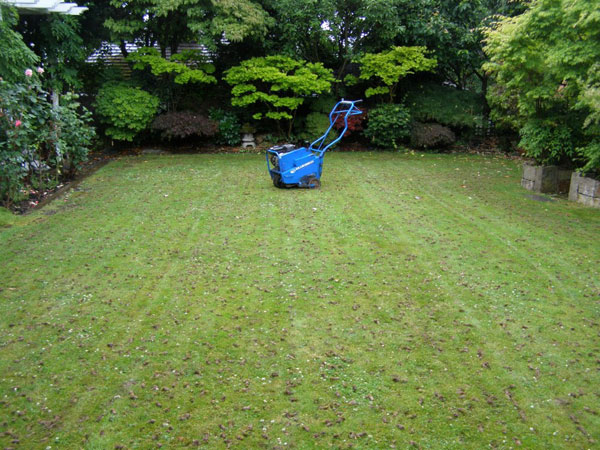 Aerating
All soil needs air, water and nutrients for its plants to thrive. In the case of a lawn, when its soil is compacted, these resources become trapped and its grass roots are unable to access them. The result is always the same; crabgrass, weeds and moss take advantage of the lawn's weakened state and gradually establish themselves. Aerating is the process of releasing the compaction so these vital resources are made available and the lawn can continue to grow lush and healthy. Aerating should ALWAYS follow power raking. There's no point in trying to aerate through moss.
Not all aerating is created equal. Those spikes on the bottom of your shoes, for instance, add to your compaction problem rather than solve it. If you are going to aerate you must rent a Core Aerator from your neighbourhood rental shop. A typical Aerator weighs in excess of 400lbs and makes operating your lawn mower seem like that plastic toy you bought your grandson. Plus you have to transport it…and anchor it to your trailer….yes, you need a trailer. In the end, its much easier to hire someone and only marginally more expensive.
Once the entire lawn has been aerated, (hopefully you marked your sprinkler heads first) there will be thousands of holes with corresponding soil plugs. Just leave the plugs to decompose. Your lawn is now literally open to the possibilities of new growth. Best time to aerate is early spring and fall. If you're aerating as part of a lawn renovation, you have just finished the tough phase 1! Congratulations! Phase 2 involves the much more fulfilling topdressing, seeding and fertilizing!